EURAM 2023
Countdown
Together with an international group of renowned scholars, we are organizing the track "Managing Creativity, Design, and People for Innovation" at the annual conference of the European Academy of Management 2023 in Dublin.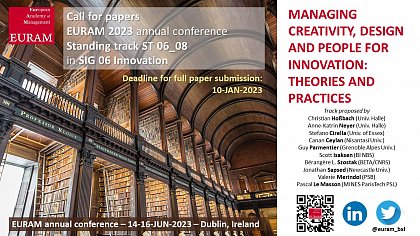 Under what circumstances (creative situations) can people best engage in creative processes to produce creative outcomes? Over the last decades, scholars accumulated a vast body of knowledge how we can best attract, select, and develop creative people, deliberately manage creative processes, and, create organisational work environments that nurture creativity. Yet, most of the existing knowledge relating to these issues is fragmented across multiple disciplines. Today, organizational creativity faces new challenges linked to open innovation, complex ecosystems, new technologies, that make it necessary to develop research about conceptual aspects and practices in relation with creativity.
This track intends to stimulate a multi-disciplinary debate of topics relevant for managing creativity and people for innovation, including: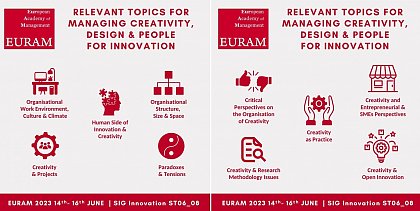 The track also intends to stimulate debates on contemporary issues:
1. Stakeholder Integration: Innovation processes become increasingly open and embedded in innovation ecosystems leading to blurring boundaries between the intra- and extra-organizational work environment. At the same time, organizations are increasingly required to serve more than just economic purposes, adding a moral and ethical lens to the work of the firm. New challenges ensue for the management of creativity, and new organizational designs are required to install creative processes. This raises questions such as who should benefit from (open) innovation efforts and how these processes should be managed to creating value meanwhile social and societal impacts of innovation are taken into account.
2. New forms of work and Human Machine Interaction: Digitization enables increasingly virtual and dispersed forms of collaboration for a broad range of people blurring boundaries between their work and family lives which radically changes the typical kind of environment they experience in their daily work. This raises questions how elements of the work environment such as physical space or organizational culture influence these (partially) distributed forms of creative collaboration and how they can be managed from an organizational perspective. This raises questions about how these human-machine interactions transform creative processes.
Download the full call for papers here:
ST06_08-Managing-creativity-design-and-people-for-innovation_-theories-and-practices.pdf (215,8 KB) vom 08.11.2022
EURAM-Flyer:
EURAM 2023 Flyer.pdf (2,5 MB) vom 08.11.2022
Check out the conference website for more information about EURAM 2023

For more information contact:
Mail: christian.hossbach@wiwi.uni-halle.de
---
---